GETAWAY Welove…
Aguilar de la Frontera – Moriles – Puente Genil
Text: Rosa Marqués @rocamarca  |  Traslation: Cristina Hodgson @cristinahodgson  |  Photography: Javier Portero @estudio.casa.palop  |  Photo caption: The archaeological museum of Bodega Toro Albalá is a magical place where time stands still.
Reading time: 8 minutes
We visit the towns of Aguilar de la Frontera, Moriles and Puente Genil to discover secret places in Montilla-Moriles, greatly unexplored yet filled with magic: a museum, home to incredible pieces, a new Andalusian restaurant with top quality wines, and an accommodation from where to discover the hidden gems of Moriles Alto.
Magic exists. Call it energy, enchantment, spell, charm… Call it what you like. But if you have never felt like Harry Potter inside a winery, you have never visited a centenary winery like this one, the amazing Bodega Toro Albalá, located in a town of Aguilar de la Frontera.
FRIDAY AFTERNOON
1. Magnetized by the Toro Albalá Winery
I read up on the winery during the drive from our accommodation in Moriles Alto, a little over ten minutes from Aguilar (more about the accommodation below).
I knew that Toro Albalá boasts some of the highest Parker scores in the whole Montilla-Moriles region and that you can taste, in situ – yes, as part of their premium visit – the wines extracted directly from the old casks reserved especially for these occasions. An experience offered in just one other winery in the world, Château d'Yquem, in France. With this expectation, to taste these legacy wines directly from barrels, we made our way to the Bodega.
From what I had read, I knew I would be wowed with the intense aromas of the crianza winery, including its tasting room filled with books and objects about wine, and with the actual history of the winery, which was a former power station. It former usage has give the name Fino Eléctrico to one of its most popular finos which is sold in bottles shaped like a 750 ml bulb.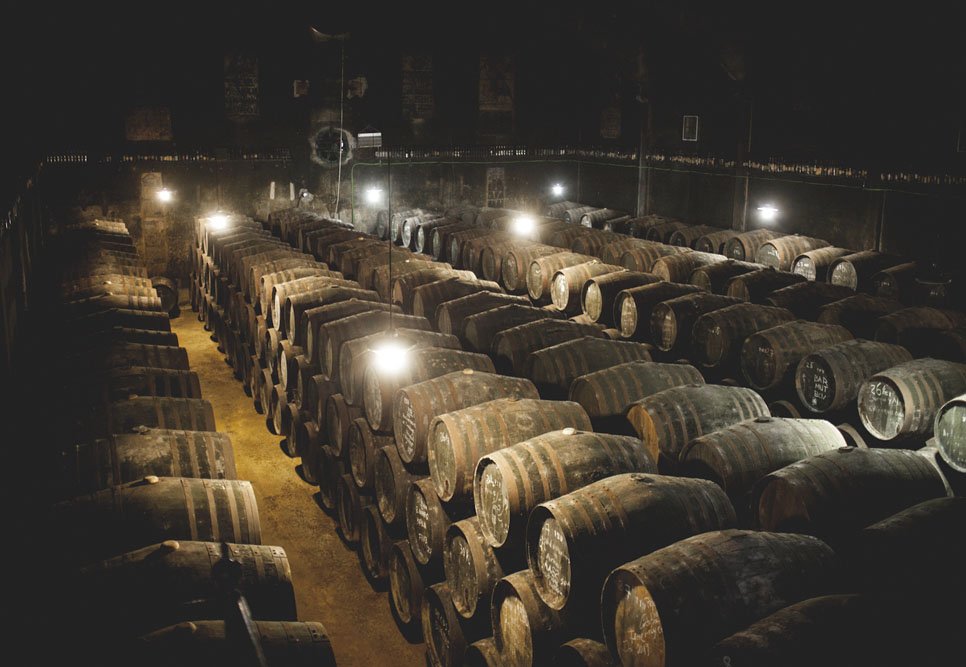 In the Toro Albalá winery ageing cellar, wines with very high Parker scores are tasted if the premium visit is selected.
But what I did not expect to find was the fascinating museum that treasures priceless pieces, leaving me feeling as if a child once again, in awe of the surrounding objects. In this museum one could summarise the History of Humanity through the innumerable pieces that form this particular magical universe of Antonio Sánchez, a wine artisan-artist, oenologist, wine culture enthusiast and, since childhood, collector of archaeological pieces. The same logo of the winery is a bust of Hermes Bachius, from the 2nd century BC, given to him by an English archaeologist friend who fell in love with the winery. The winery high-end bottles are also a tribute to the impeccable craftsmanship, from which an artisan pipette hangs. (Popular with wine enthusiasts around the world).
2. Roman skeletons, swords, bombs…
The aroma of Pedro Ximénez is evident from the moment you open the door to the underground museum and step into what feels like a dream world. And although a new space for the museum's pieces is being completed, a three story building, in the meantime the pieces are kept here, in this much more romantic space, catalogued by Archaeology Professors from the University of Cordoba who visit from time to time to see Antonio's collection, a passion that has not faded despite his almost 80 years. "Every day I enter I see new things", says Sixto, the person responsible for the wine tours which includes the winery, museum and tasting room.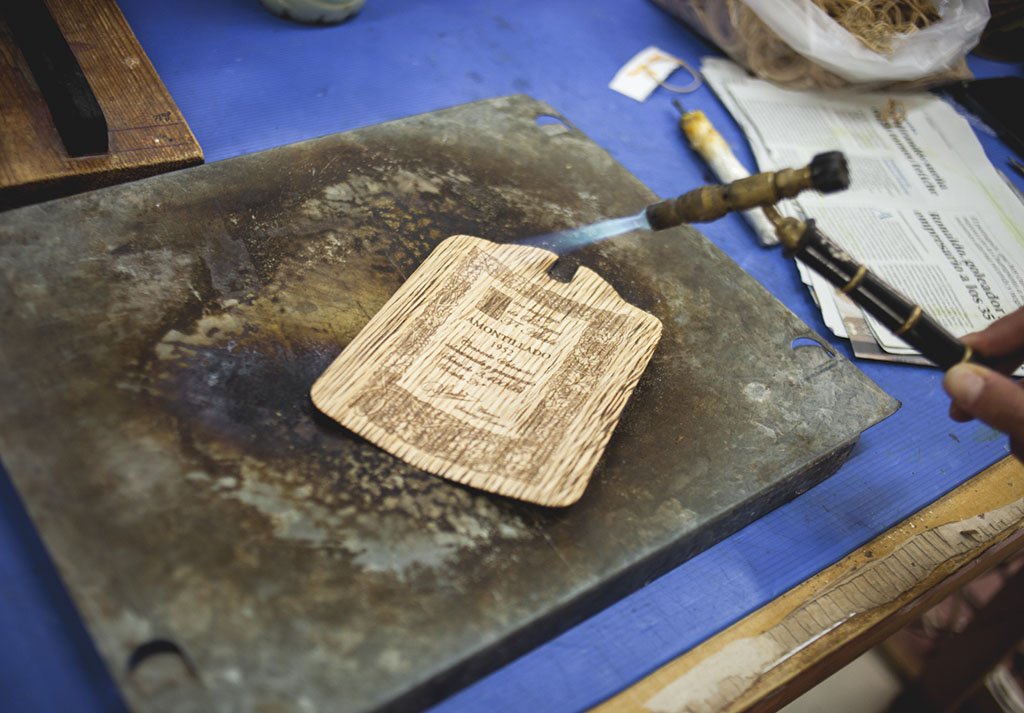 The artisans of the winery seal the bottles by hand and prepare the labels made of oak wood.
The first thing that "greets" us in the museum is the tomb of a Roman slave (1st century BC) whose skeleton shows the shackles around his feet and neck. An individual from another era who lived here and who, as Sixto tells us, was buried in the family's vineyards and was discovered by some of the field workers. But our surprise does not stop here. There are also pieces from different cultures and historical periods: Palaeolithic, Neolithic, Bronze Age, Greek, Roman, Phoenician, Iberian, Islamic, medieval… some gained at auctions, other gifts from friends…
Spearheads, pots, amphoras, knives, swords, pre-Columbian pieces… and many curious things like a boa constrictor skin, a radioactive contamination counter from the Hiroshima bombs, the first express pot from the 17th century, a diving suit, bombs from the Spanish Civil War… And among all these objects which have souls and tell dozens of stories that could be collected in a book are the first butts (barrels) of the family, from 1844, which are the ones that intoxicate the room with the aroma of Pedro Ximénez because the ageing of wines is another of Antonio Sánchez's passions.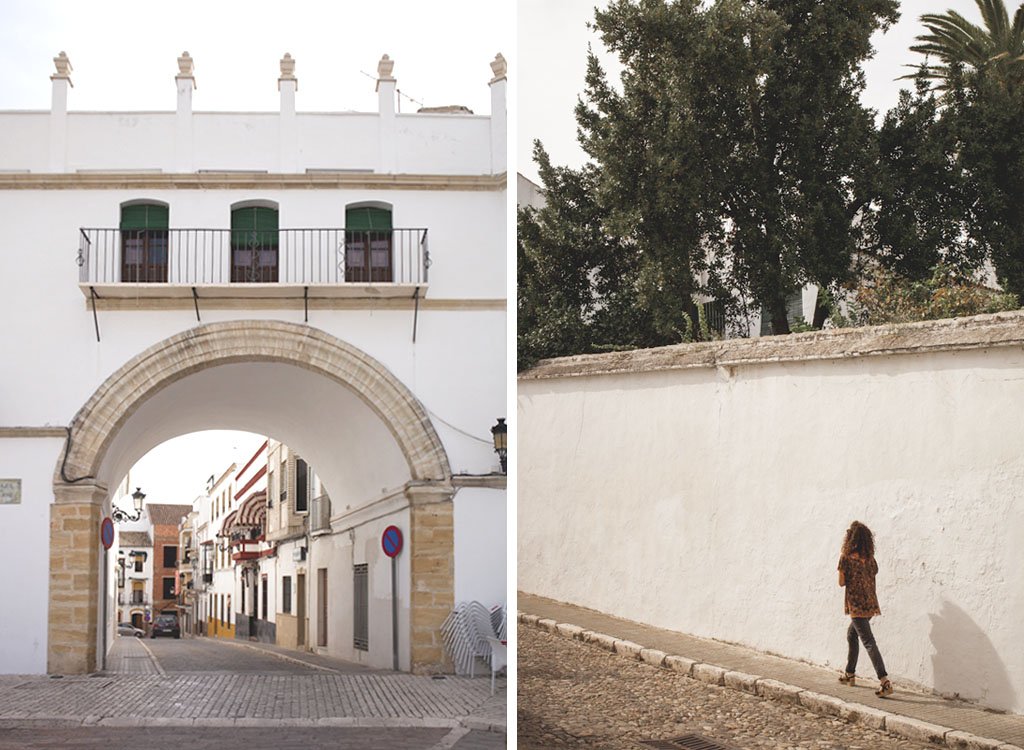 The octagonal-shaped Plaza de San José and its surroundings are corners to inspire as they did for poet Vicente Núñez.
FRIDAY NIGHT
3. The octagonal square of San José, the inspiration of a poet
Later, we take a walk through the centre of Aguilar to visit its famous octagonal square. The Plaza de San José is a neoclassical-style main square, completed in 1810 and declared a Historic-Artistic Site in the mid-1970s.
This was the favourite place of the universal Cordovan poet Vicente Núñez. Here he spent many hours immersed in the contemplation of the sky through an arch, a place that inspired his work Ocaso en Poley, and which is commemorated with a plaque.
Next to this plaque, in a tavern where, unfortunately, they do not serve Montilla-Moriles quality wines, but good "zurrapa" (fried loin of pork in butter and salt) toasts and some simple finos to drink, we sat down to have an apéritif and contemplate the square as the poet once did.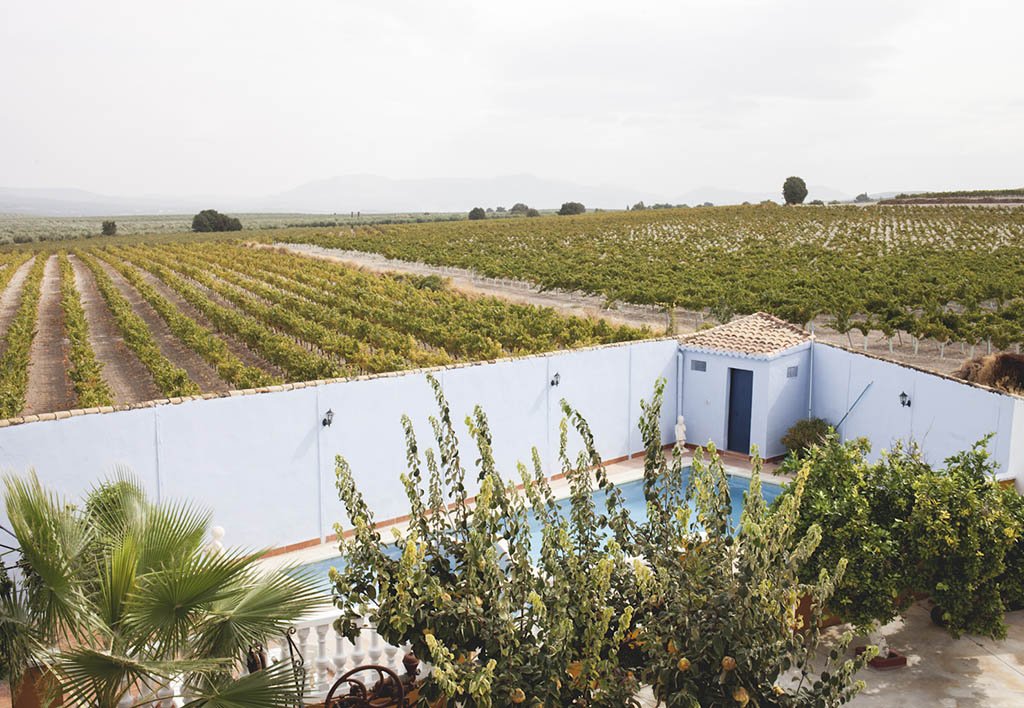 From the terrace of a room at Cortijo El Patriarcal, you can view its swimming pool surrounded by vineyards.
SATURDAY MORNING
4. An Andalusian farmhouse to sleep in and a wine press to visit in Moriles Alto
We wake early for breakfast and then go for a long walk. The Cortijo El Patriarcal has been in this mythical corner, surrounded by vineyards and spectacular views, for 20 years. It is a classic space for rural tourism in the region. Its owner, Jerónimo, offers all kinds of amenities for all his guests, whether a couple, a small family, a wedding or just one individual. A genuine pleasure!
The swimming pool is surrounded by quince trees and the fireplaces that are distributed between the two houses together with the rustic communal area give you an idea of how nice it must be to visit in autumn or winter. But undoubtedly, the best thing is the enclave, because from the moment you leave the door of the accommodation there are paths that lead you to far and wide. One of the paths takes you to the Laguna del Rincón, a hidden but incredible location to take photos, it's also a perfect spot for birdwatching.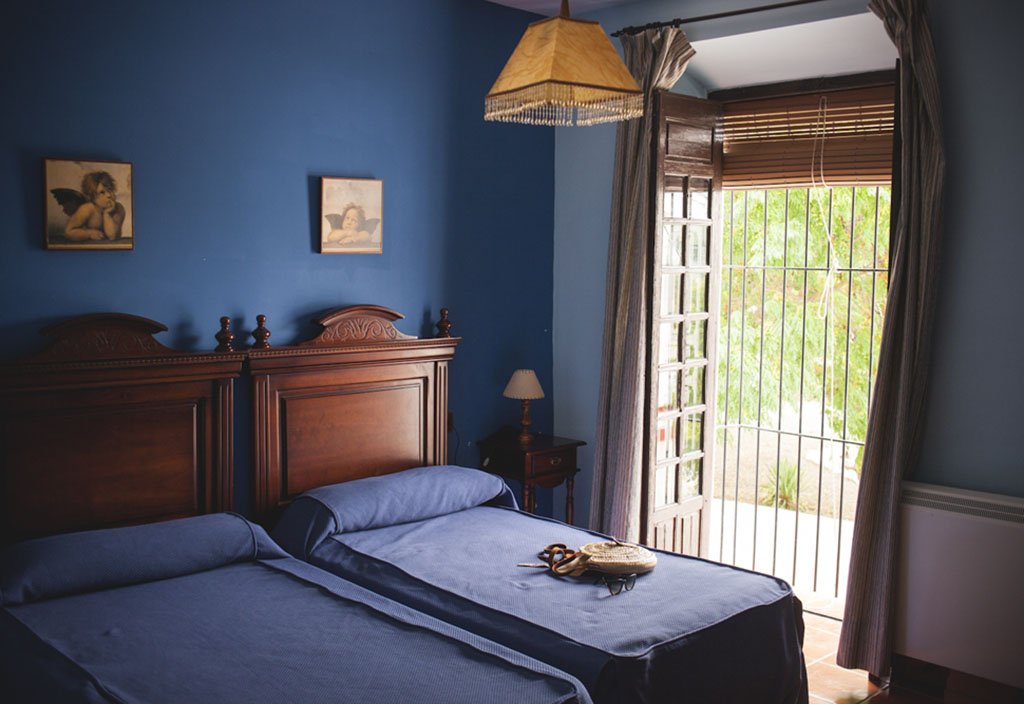 The light of the countryside floods the rooms of Cortijo El Patriarcal, in Moriles.
And another walk leads you to some of the most famous wine presses in the quality wine region of Moriles Alto. So we set off to walk to the Lagar de Casablanca, where a family from Moriles has been making their own wines for almost 30 years, in the very same place where Dominican monks also produced wines, back in the 16th century, in the old Bodegas Santo Domingo. A plaque at the entrance to the current ageing cellar, a reminder of its history, the ceilings originals of the era. There is no lack of decorative pebbled floors typical of Cordoba's patios, and the bodega floor is covered with chalky sand, which, as Isabel María explains, maintains the temperature of its 300 butts in more optimal conditions. Wines of their own harvest and 100% Moriles Alto.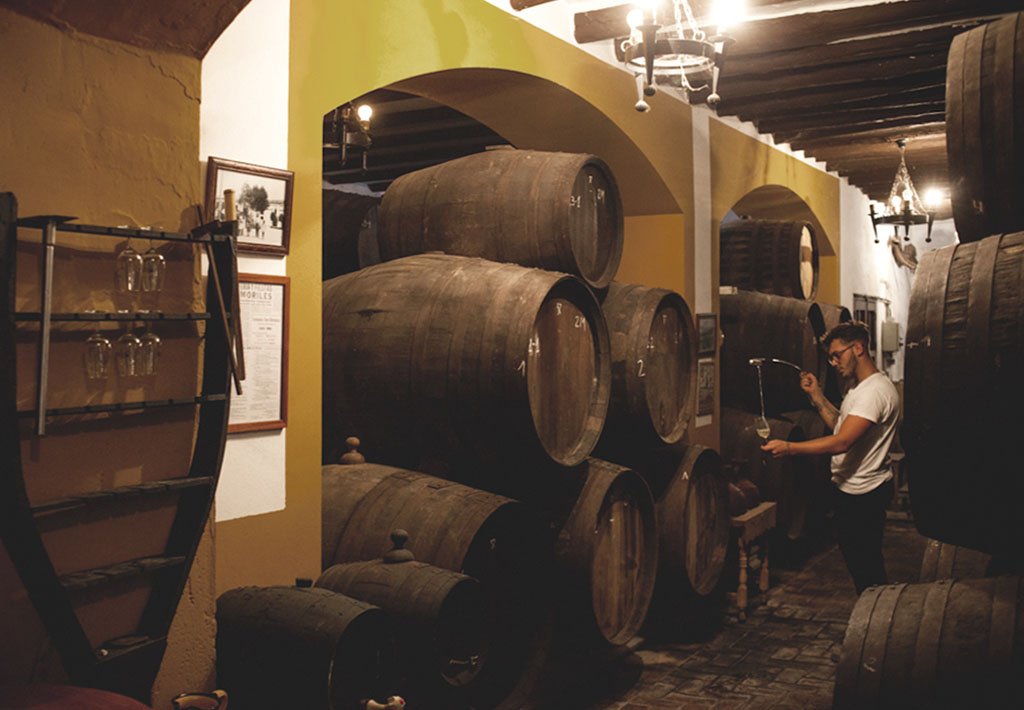 In the Lagar de Casablanca, located in the quality wine region of Moriles Alto, where you breathe (and taste) wine.
LUNCHTIME
6. The Alma Ezequiel restaurant, local products and excellent wines

Before lunchtime, we made a reservation in one of the most in vague restaurants in the Montilla-Moriles region, the Alma Ezequiel Montilla restaurant, in the nearby town of Puente Genil.
An excellent restaurant, located in the centre of the village and run by the chef himself, Ezequiel Montilla. Montilla spend several years in London and then Morocco, where he discovered common elements with the Andalusian cuisine, included in his menus.
"The menu is not only Moroccan cuisine, there are only two traditional dishes from Morocco on the menu, the chicken and almond pie and the lamb tajin with nuts, but we also have fresh red tuna from Cadiz seasoned with Ras el hanut, a Moroccan spice, to which we add turmeric, used in typical Cordoba dishes", says Ezequiel from his open kitchen, a space viewed by everyone as he prepares the dished. Nothing is concealed in this restaurant.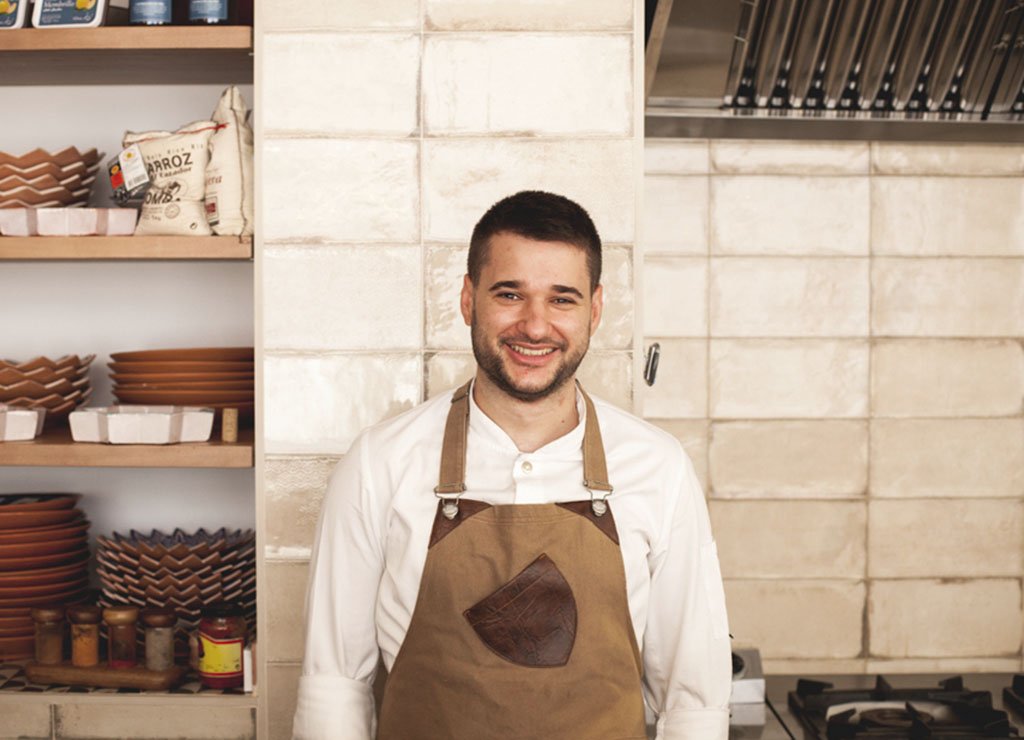 The Alma Ezequiel Montilla restaurant, located in the centre of Puente Genil, is this chef's personal commitment to the area and local produce.
Such is its transparency and its commitment to local produce that even though it has not yet been a year since it opened, it has already put Puente Genil on the Cordoba food map.
"For us wine is a fundamental part of the culinary experience", he says, as we look around a bright, comfortable restaurant with exotic touches and notes of Morocco, as well as large glasses of wine on every table.
We enjoyed the experience from start to finish, and even tasted their famous Sunday rice dishes. It was lucky we left room for dessert.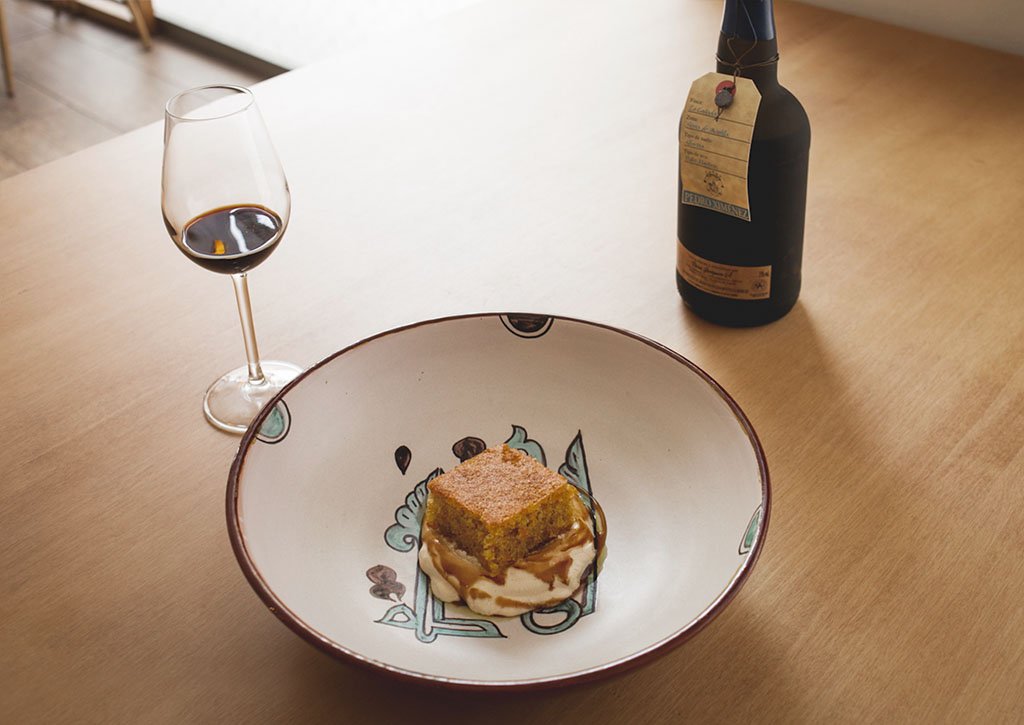 We top off our lunch with a delicate carrot cake soaked in Pedro Ximénez, accompanied by PX La Cañada, from Bodegas Pérez Barquero, aged on average for 25 years in the Criaderas y Soleras system.
Of the three wonderful desserts on the menu, we tried their Carrot Cake with Pedro Ximénez. Made, as explained by Ezequiel with a mouse of PX, cream and caramel, which they put in a siphon. The PX caramel is made with sugar and PX that has been simmered for about 40 to 50 minutes on a low heat. Olive oil, cinnamon, oranges from Palma del Rio together with some TLC go into the spongy carrot cake. Accompanied, as it should be, with a sweet Pedro Ximenez wine.
HOW TO GET THERE:
From Córdoba to Aguilar de la Frontera it takes 40 minutes by car.
At the RENFE station in the capital, you can rent a vehicle from €14 per day if you do not have your own vehicle or if you are en route through Andalusia.
WHERE TO STAY:
Cortijo El Patriarcal. Ctra. Moriles-Aguilar de la Fra, km 0.7; tel. 663 860 826. Price per night for 10 people from €175 (low season).
There are two individual houses available for rent either for groups, couples or individuals. Both Casa El Pintao and Casa La Corneja have a capacity for 10 guests. There is total flexibility and there is no minimum number of days or people in order to rent the house. All the rooms have rustic decor and windows with views, there is also a barbecue area and a swimming pool.
WHERE TO EAT:
Restaurante Alma Ezequiel. Calle Poeta García Lorca, 4; Puente Genil; tel. 622 82 09 05. Average price per person, €20 (without wine).
This modern, well-lit restaurant in the centre of the town is one of those places you must visit, whether you are on your way through the region. It combines the Moroccan cuisine, which the chef, Ezequiel Montilla, knows well with the gastronomy of the region, the products of the land and the wines of Montilla-Moriles. On Sundays customers snap up the rice dishes like hotcakes, a restaurant which, thanks also to the premium olive oils, quinces and above all, impeccable service attracts food lovers from all over the region. But remember to leave some room for their excellent desserts.
WHAT TO VISIT:
Toro Albalá Winery. Avenida Antonio Sanchez, 1, Aguilar de la Frontera; tel. 957 66 00 46.
Bodegas Toro Albalá, founded in 1922 by Jose María Toro Albalá, was the dream of a small farmer who invested his work here. In the 1960s, Antonio Sánchez and his nephew, who already had a university education in chemistry and oenology, gave their own nuances to these wines, which are sublime. Their PX Convento Selección achieved 100 Parker points and since then they have gained international recognition, exporting to many countries.
There are several possible ways to tour the winery. The Alchemist's experience includes the craftsmen's workshop and cellar with a last stop at the tasting room, where you can try the wines Dos Claveles, el Fino Eléctrico, Palo Cortado Solera and Don PX Cosecha. Each visitor gets to take home a bottle of Pedro Ximenez (€20/person).
For an additional view of the museum, you can select the Archaeologist tour for €32/ person.
Additionally, there is the Luxury tour which covers a 2-hour visit ending with a premium wine tasting including the wines with the highest Parker scores extracted directly from the barrel. The Don PX Convento Selección, from 1946, with 100 Parker points, no longer on sale – reserved solely for these visits – and another eight wines with high Parker scores (€150 /person).
Casablanca wine press. Road from Moriles to Aguilar de la Frontera, Moriles Alto; tel. 672 466 682.
The views of the superior quality area of Moriles Alto from the Lagar de Casablanca are worth the trip alone. This wine press with whitewashed walls is the perfect place to discover the wines of the area.